FNU Webinar – The effects of Covid-19 on family law and its psychological impact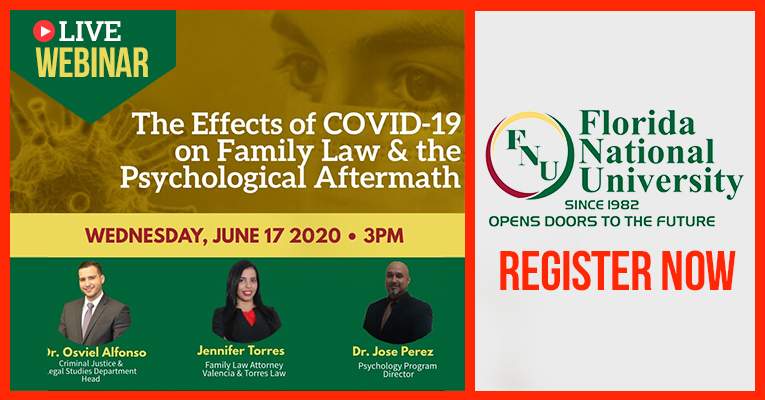 FNU hosts a webinar to address the effects of Covid-19 on family law and its psychological impact
Those interested in joining the webinar can register at https://www.fnu.edu/covid19-webinar/.
HIALEAH, FLA. – Florida National University will host a webinar that aims to address the effects of Covid-19 on family law and the psychological ways it influences children on June 17th, 2020, at 3 P.M.
Sponsored by Telemundo 51, Ponemus Group, Goal Setting Solutions Advertising and Marketing LLC, Univision 23, Ritmo 95.7 and The Dr. Jose Regueiro Foundation Inc., this webinar will outline the effects of Covid-19 on family issues such as child custody, child support, divorce, how some are taking advantage of the Coronavirus to avoid paying child support or follow the split custody of a child and how all of these things affect a child psychologically.
FNU is pleased to have a great lineup of hosts such as Criminal Justice and Legal Studies Director Dr. Osviel Alfonso, Psychology Program Director Dr. Jose Perez as well as Jennifer Torres, Family Law Attorney of Valencia Torres & Law to discuss these important issues.
"These issues are affecting so many families and children and they have been put on the back burner as the world works on saving lives during the COVID-19 pandemic," said Dr. Maria Regueiro, FNU President and C.E.O. "It is understandable why it has been put on hold. However, I want to make sure that FNU is doing its part to address these problems."
As social distancing and stay-at-home orders continue across the nation, parents search for guidance on whether to follow custody orders during the pandemic. However, with courts closed, the search for answers has proven to be more difficult than they could have imagined.
"We are so fortunate to have Jennifer Torres, an attorney familiar with family law as well as Dr. Alfonso and Dr. Perez be able to give these families the answers and advice they have been looking for," Dr. Regueiro said. "Webinars like this during a pandemic can give people professional insight on things they would not be able to get anywhere else during these difficult times."
Those interested in joining the webinar can register at https://www.fnu.edu/covid19-webinar/.
Florida National University is a pre-eminent university located in metropolitan Miami, one of the most visited cities in the world. In its inception, the institution offered business, computer, dental, medical, paralegal, and travel programs. FNU's diverse faculty has plenty of in-the-field experience, which aids in furthering students' knowledge and confidence once they enter the workforce. Paired with a warm and attentive staff, FNU's faculty and staff create a welcoming environment for all students.
CONTACT: Maria Zegarra,
Florida National University Marketing Manager
4425 W 20th Ave, Hialeah, FL 33012
For information, email: marketing@fnu.edu