JuntaHispana® CELEBRA NUESTRA HERENCIA HISPANA CON UN EVENTO UNICO QUE RESALTA LA DIVERSIDAD CULTURAL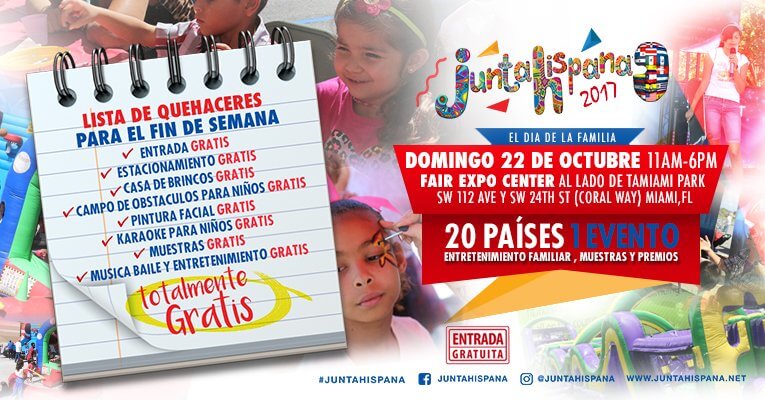 Miami – In recognition of our Hispanic heritage, JuntaHispana ® , a multicultural organization dedicated to increasing the education of Hispanic culture, traditions and customs, will be holding a cultural show on October 22, 2017, from 11 am to 6 pm in Miami Dade Fair & Expo Center in Tamiami. The place will be transformed into different plazas , cultural villages representing the participating Spanish speaking countries, full of craftsmen demonstrating, promoting and selling their handmade crafts. A multi-cultural dining room will tempt the palate with authentic Hispanic dishes. Entry and parking for the event will be free for the public.
The exhibits, presentations and design of JuntaHispana ® will highlight the richness of all Latin cultures, which have had a profound effect on American life today. Live entertainment, including music groups and dance bodies, will be performing during the daytime program, which is completely free and open to the general public.
"Of all the different cultures and traditions that are woven into the mantle of American life, Hispanic Americans have some of the most unique, ancient and exciting traditions," said Gabriela Vaque, the Creative Director of JuntaHispana.
JuntaHispana will also have free family activities, including children's dance competitions, children's karaoke, interactive games, obstacle courses, and a coloring area. The Children's Arts Center of JuntaHispana is a favorite of families in the Miami area. This year the children will receive a San Mateo mask, materials, scissors, glue and crayons to create their own carnival mask!
" JuntaHispana ® offers something for everyone, regardless of age or country of origin," says Leonardo Sanchez, entertainment director of JuntaHispana. "I work hard to ensure that JuntaHispana continues to be a symbol of culture, family and pride."
JuntaHispana ® is a multicultural celebration of unity, which highlights the diverse cultures and talents of the Hispanic community. The goal of JuntaHispana ® is to celebrate, educate, and honor the different cultures of Hispanic Americans, and to foster the pride of those Americans who identify themselves as Hispanic.
JuntaHispana ®  Join us on a very special trip. For more information visit //www.juntahispana.net or follow us on Facebook, Twitter or Instagram. The entrance and parking in JuntaHispana is free for the public. All activities are also free for all the public.
JuntaHispana ®   Do not miss it!
Deja tu comentario
También te gustaría